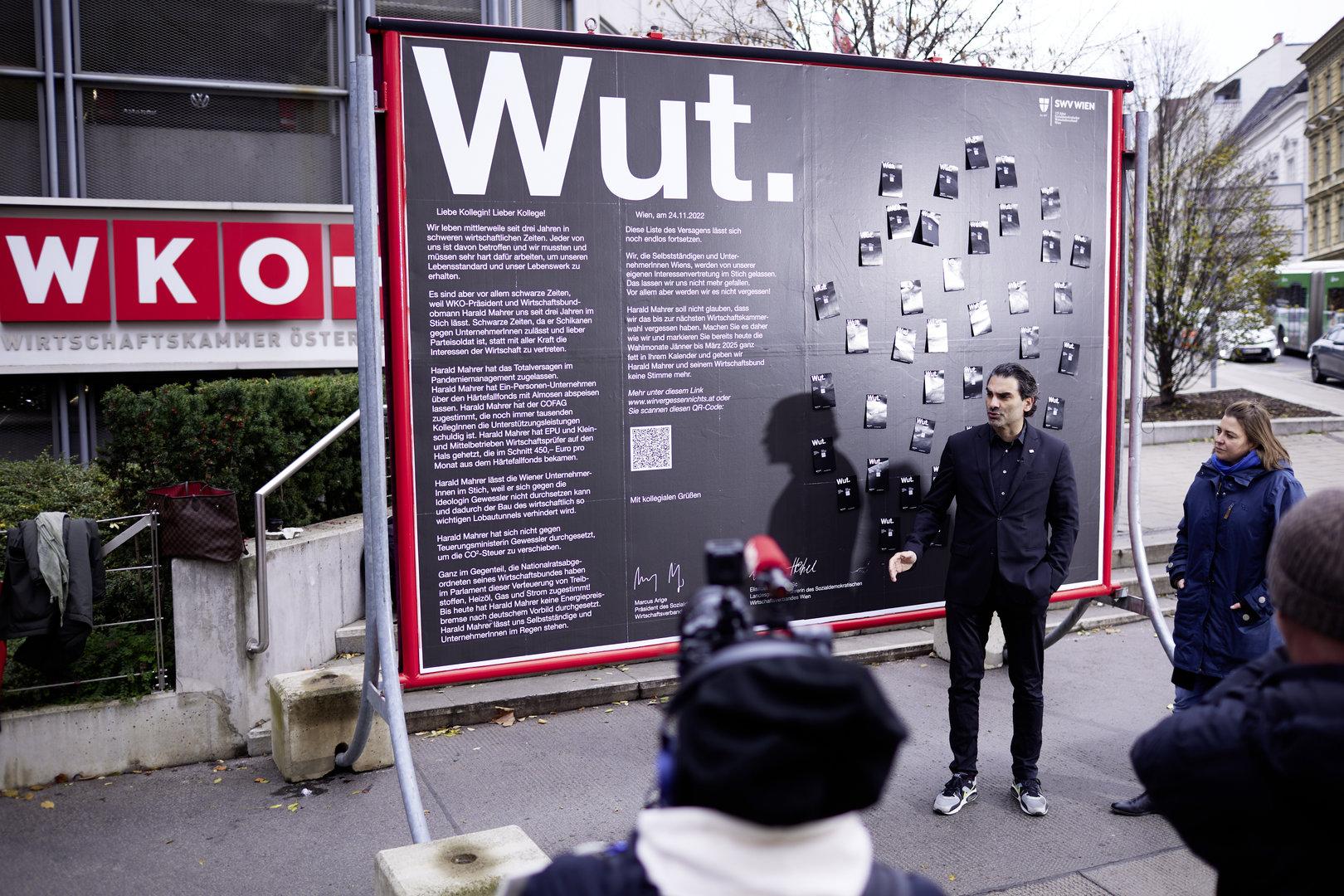 WKO President Mahrer only talks, but doesn't act, says Marcus Arige angrily. He calls for rapid national measures to combat the high energy costs.
Marcus Arige, President of the Vienna Social Democratic Business Association (SWV Vienna), is "angry". He accuses Chamber of Commerce President Harald Mahrer (ÖVP) of inactivity – and also calls for more constructiveness from the SPÖ.
KURIER: Why do you accuse Chamber of Commerce President Harald Mahrer of "total failure"?
Marcus Arige: In interviews, he draws attention to the precarious situation of the Austrian economy, but at the same time acts as if he cannot change it. May I remind you that the Business Association has 23 MPs in the National Council and three members of the government – with Magnus Brunner even the finance minister. Without the votes of the Economic Association, no law can be passed, nothing. And then these emissions make that the CO2 tax should be overturned. They decided on it and introduced it.
Why are you sounding the alarm right now?
It's the end of November, we're now well into the heating period and we still don't have an energy price brake. People don't know what to do anymore. Harald Mahrer should either do a social partner summit or assert himself in the ÖVP and go into implementation. In Spain, solutions have been found, in Germany they are working on an electricity and gas price brake, which should come by January at the latest – and we have nothing at all.
So do you – like Mahrer in the KURIER interview – demand an Austrian solution for company aid if no EU-wide measures are taken for the time being?
The Germans have at least a finished concept in the drawer and are still waiting to see whether there is an EU-wide agreement. The Austrian federal government has no concept and has been relying on a European solution since September. But if you see that the EU is not delivering, then you have to take your own measures to protect the business location.
But which national solution would make sense? A national gas price brake? The energy cost subsidy already exists.
Ironically, the energy cost subsidy, in which only 30 percent of the additional costs are reimbursed for the months of March to September, is celebrated as a success. It's a very rotten compromise, but companies won't be fooled. An example: The Mann bakery expects energy costs of 4.4 million euros – instead of 1.2 million. They get a million replaced, they have to lift 2.2 million themselves. Of course, a gas price brake is needed.
In addition to the energy cost subsidy, it was announced that there is a flat-rate subsidy for small and very small companies with a cost of less than 2,000 euros.
This solution was promised, but to this day it is not there. The EPUs and SMEs are left out in the rain by their own interest groups. The Chamber of Commerce and the Business Association are watching and lamenting the situation at the same time. That's lying, that really pisses me off. I am also personally affected with my own agency.
There are also industries that can pass higher prices on to customers.
Where prices can be raised, such as in the catering trade, they are far from rising sharply enough to offset the energy costs. I really know a lot of companies that have to inject private money every month.
The SPÖ has been involved in internal conflicts in recent days. Does it annoy you that your party is not currently focusing more on presenting solutions?
Serious problems need serious solutions developed by serious people. We must now feel committed to the state, society and the citizens. They rely on the political actors, it's about trust. Personal ambitions must now be put aside. People want to know how things will continue next year, they deserve concrete politics. If we lose trust now, the populists and right-wing extremists will come. And I would like to prevent right-wing extremists from benefiting from the fact that those who should actually work out solutions are unwilling or too vain to do it.