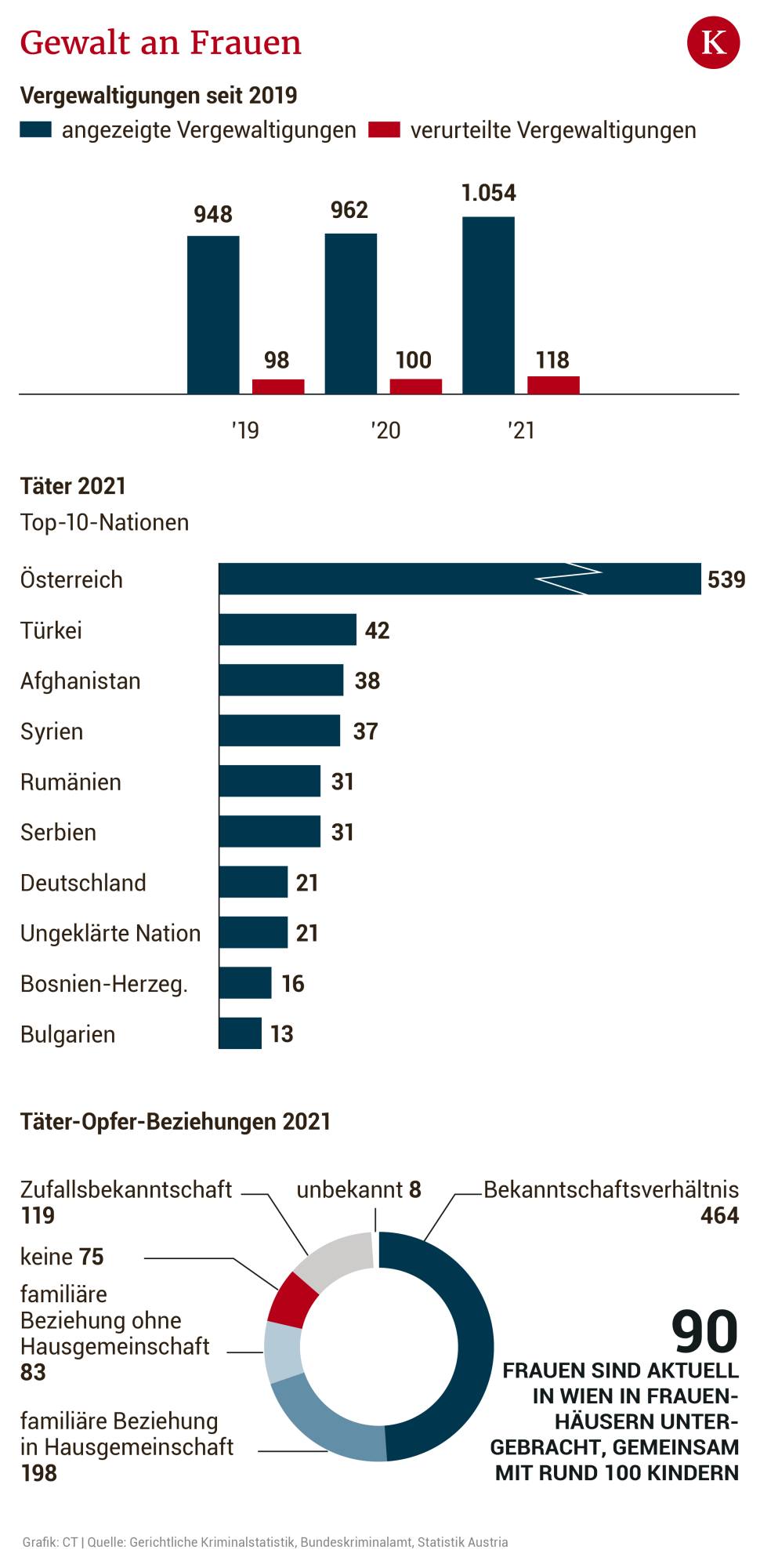 Violence against women: What are the challenges for police and victim protection.
16 days. As of today, as long as violence against women is raised again. Combating violence against women is part of everyday life in the office of Dietmar Berger, deputy head of investigation at the Vienna State Criminal Police Office. 365 days a year.
Police officer Berger knows the background of cases that usually cause public horror for a short time, only to then be forgotten until something happens again and the horror rises again.
There are cases like that of eleven and fourteen year olds who are said to have been raped two weeks ago in an apartment in Vienna-Meidling. Or that of 13-year-old Leonie, who is said to have been raped by three boys, filmed and placed on a grass verge. Berger is not allowed to talk about it.
Specially trained officers
But the man with the neat short haircut tells a different story while he serves coffee in the blue cups with white decorations. About the list that is available in the State Criminal Police Office. "Then you will find those female detectives who are immediately available for the victims when a rape occurs. They are specially trained for first aid," he explains. Because if there is a rape in Austria, the victim only speaks to a female detective. This is what victims' rights stipulate in the Code of Criminal Procedure.
Important forensics
The questioning is sensitive, says Berger, and the victim is not left alone on the way to the hospital to secure the traces.
If those tracks are still there. Because it is a knee-jerk, understandable behavior after sexual offenses that the mostly female victims want to wash – from a forensic point of view it is devastating. "The traces are extremely important, especially in the case of sexual offenses, because we are dealing with very fleeting traces here," says Berger and lets the blue coffee cup with the white decorations rotate on the saucer until it comes to a standstill.
"The victim should never feel like it's a burden, that they have to wait for hours. Ideally, we conduct a single survey. The act itself is stressful and traumatizing enough. That's why it's important to avoid any further exposure, "explains the 48-year-old the work of his investigation area 3, which deals with sexual offences.
action and process
What does rape mean to a victim? You get the answer a good 300 kilometers away, in the office of Thomas Lehmert, Salzburg's "Weisser Ring" regional manager.
For 15 years, Lehmert has accompanied victims of criminal offenses in criminal proceedings for the victim protection facility. "For many of those who come to us, the deeds were a long time ago. We make it clear to them what to expect in the process. Most believe they will report it and the perpetrator will be convicted. But it doesn't happen that way. No perpetrator says: Thank you for reporting me, but usually portrays the victim as a liar." Pause. "And when the crime happens in the family, there is enormous pressure as to why you do something to poor grandpa."
1,054 rapes in 2021
This is also confirmed by comparing the number of reported rapes with the number of convictions. While a total of 1,054 rapes were reported across Austria in 2021, there were just 118 convictions in the same period.
Lehmert: "In the case of rape, there is usually a victim and a perpetrator. Word agains word. We have the problem of the possibility of proof and in Austria the rule still applies: in case of doubt for the accused." Experts explain that the number of rapes has been evident for years with the fact that the topic has been removed from taboo.
The experts always advise reporting. "Many victims finally want to break their silence. No matter what comes out of the trial, they want to send a signal to the perpetrator that it's over, that he should know what he did to them."
perpetrator-victim reversal
But Lehmert does not only know the side of the victims. He also knows the perpetrators with whom he worked when he was still part of the counseling center for men. Perpetrators who engage in perpetrator-victim reversal. "It's about taking responsibility for your own actions. I've heard arguments that women wore skirts that were too short and that's why they made it a point. I then said to the perpetrators: Did she ask you to rape her? Did she say it like that? That was your act, you have to take responsibility for it."
42.8 percent foreign perpetrators
Back in Vienna, police officer Berger gets to know the perpetrators a step earlier. At the surveys. The justifications remain the same. "We have perpetrators from certain cultures for whom women are fair game. Who believe in the right of the strongest and do not accept a woman's 'no'." If you take a look at the figures in the crime statistics under Section 201 of the Criminal Code, you will find a total of 42.8 percent foreign perpetrators for 2021. Turkey, Afghanistan, Syria is under the item "Top Nations".
As the blue coffee cup with the white decorations is being removed from the table, Berger is asked how one can do this work without harming oneself. "By seeing every case as a case. And clarifies the facts as comprehensively as possible so that others can do justice." And not just 16 days a year.