Two council members from the Yellowknives Dene First Nation (YKDFN) said Prince Charles and Camilla, Duchess of Cornwall, were "very polite" and interested in learning more about Dene culture during their stop in Dettah, in the Northwest Territories, Thursday. groups3
The royal couple were in the Dene community, located 25 kilometers from Yellowknife, as part of their third and final day of their tour of Canada. The visit comes in honor of the Queen's Platinum Jubilee, a celebration of Queen Elizabeth II's 70 years on the throne.
"They were just very into everything and really interested in learning how everything is done," YKDFN board member Kateri Lynn said. Both Lynn and Jessica Sangris wore beaded pins that said "Land Back" while showing Charles and Camilla traditional hunting items and gifting them moccasins.
"I think it's very important to recognize that while we're receptive and happy to receive them, these are still treaty lands," Sangris said. "It would be nice to have our traditional land back."
Prince Charles takes part in the drum dance
Fred Sangris, the Yellowknives Dene First Nation chief for Ndilǫ, told CBC News Network that Prince Charles also participated in a drum dance.
"No one thought he would, but he had a dance once, and it shows he cares and wants to help," he said. Sangris said he and other leaders had the chance to speak with Charles about reconciliation, residential schools, the Giant Mine clean-up project and the lack of housing.
"I think he understood. He was very attentive, listening to our concerns."
The four-hour royal visit began shortly before 2 p.m. with an arrival at the airport, where the couple were greeted by Yellowknife Mayor Rebecca Alty Power and Northwest Territories Commissioner Margaret Thom. The couple also accepted flowers from seven-year-old Sahaiʔa Talbot, a student at K'àlemì Dene School.
After about an hour and a half in Dettah, Charles traveled to Fred Henne Territorial Park in Yellowknife to meet the Canadian Rangers. The prince briefly sat on top of a snowmobile – an essential means of transport in the North – and was shown various animal furs, drums and weapons. He is also about to become an honorary member of the Canadian Rangers.
Charles then traveled to Rotary Centennial Park – near the old Dettah Ice Road entry point which is now melting – to speak with climate change activists. The ice road has been closed for the season since April 22.
During this time, Camilla visited students at Kaw Tay Whee School in Dettah and traveled to Yellowknife to tour the YWCA's Transitional Housing Center for Women and Children.
📍 Kaw Tay Whee Community School, Dettah

Wiìliìdeh yatìi hoghàgohto gha mahsi ts'įwo.

Thank you for teaching us to learn Wıìlıìdeh with you! pic.twitter.com/6lJevrgqsK

—@ClarenceHouse
The royal couple met at the Prince of Wales Northern Heritage Center – a facility named after Prince Charles when it opened in 1979 – for a tour.
Charles met with food producers at the museum to discuss food production and entrepreneurship, as well as environmental challenges. He also took part in a Treaty 11 discussion and the royal couple watched a demonstration of traditional Inuit sports.
Charles and Camilla then proceeded to a public flag raising and plaque unveiling behind the Joint Task Force North building near Frame Lake. In the final stop of the whirlwind visit, Northwest Territories Premier Caroline Cochrane presented a Métis scarf to Charles and a Dene birch bark basket to Camilla. Cochrane presented both of them with an Inuit muskox horn carving.
Charles then gave a speech.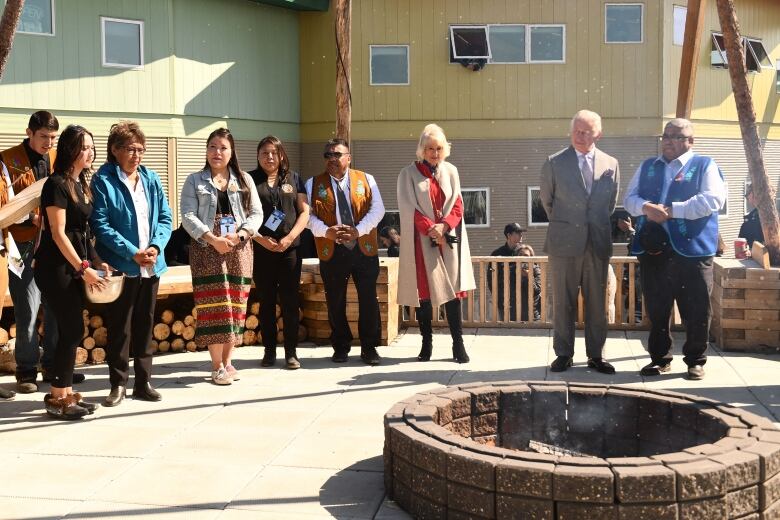 Kathy Franki lives in Dettah, where the royal couple were due to attend a number of public events, including a fire-feeding ceremony and a meeting with Indigenous leaders and elders, before parting ways. Franki went out to see the royal family with her common-law partner.
"I will tell my granddaughter that I saw Prince Charles," she said.
Tłı̨chǫ Grand Chief Jackson Lafferty was among those gathered in Dettah to greet the royal couple. He described the visit as "very exciting".
"His [Charles'] the focus is on climate change, the environment and also reconciliation, indigenous reconciliation. There have been discussions about it, which is great."
The royal tour concludes with an evening departure ceremony at the airport.